PRECISELY ENGINEER METHODS AND CONTROL COSTS WITH ETC
Engineered TruCost (ETC) is the premier standard data costing solution designed specifically for the fashion and sewn products industries. By describing the methods used to produce their products, engineers and other manufacturing professionals can quickly and accurately determine the time and cost associated with both complete products and individual operations and tasks. With ETC, detailed cost analyses are accomplished in minutes rather than days.

Click below to see larger screen shot: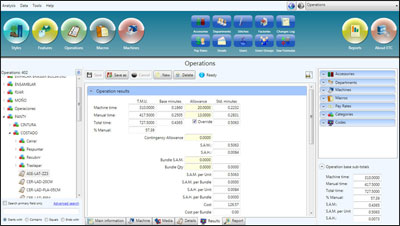 This simple technique can be used early in the process to predict product costs with near-production accuracy and to evaluate the cost considerations of each change to the product. Armed with this highly accurate information, production and sourcing professionals can quickly and accurately predict product costs in advance of production, define operational best practices, plan for production and supply chain execution, and benchmark manufacturing costs against global standards.
ETC is developed around a fourth generation Methods Time Measurement (MTM) statistical database. This precise standard data makes it possible to produce a logical, accurate, and consistent time and cost evaluation. ETC simplifies the use of this core data to create a quick and easy-to-use software solution that yields measurable benefits for all fashion and sewn products companies and professionals.
Download the ETC brochure.
Read about the latest ETC V9 solution .
ETC V9 Video Introduction.